"ANDREWS"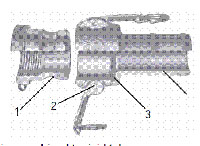 1. Precision machined to rigid tolerances.

2. Durable stainless steel cam arm pins will not rust or bind, for greater strength and safety.

3. Recess holds gasket firmly in place - assures proper placement.

4. Long shank design allows proper banding thus eliminating the major cause of hose damage.

ANDREWS ORDERING SYSTEM

200: Size of coupler or adapter and hose
or pipe end; i.e. = 2 inch size.
- A - : Style Code
AL - : Material Code
•: Gasket


If coupling is a reducing size, the coupler or adapter is
the first size (i. e. 4030-C is 4 inch coupler to 3 inch hose
shank.)

Operation of Cam and Groove

1. To make connection, simply slide the adapter into
the coupler and with normal hand pressure, press
the cam levers down.

2. Uncoupling is as quick and simple as coupling.
Just lift the cam arms and remove the adapter.
"BOSS-LOCK"
"Boss-Lock" Cam & Groove provides a unique patented safety feature.
The Cast-in lugs allow safety clips to be attached once the lugs are passed through slots in the special cam lever arms. These clips prevent the coupler from being unlocked until they are removed, providing a positive locking action.

Pull Ring Safety Clips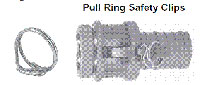 Dixon has developed the Pull Ring Safety Clip to
simplify the locking action on "Boss-Lock" couplers.
No more inserting clips or dangling lanyards, just a
twist and it's locked, giving you a low profile positive
locking action.

The Pull Ring Safety Clip will be phased into stock on
all "Boss-Lock" couplers as inventory is replaced.


Buy with Confidence
-Boss-Lock" Investment Stainless
Steel Cam Arms are Guaranteed!!!
Should you ever break a "Boss-Lock" Investment
Stainless Steel Cam Arm, simply return it to the
nearest warehouse for a free replacement.
SPECIFICATIONS ON OUR CAM AND GROOVE
Specifications:
"Andrews", "Boss-Lock" and "EZ Boss-Lock" Cam and Groove couplers and adapters are produced to interchange with all product produced to Mil-C-27487F. No standard exists for the 1/2" and 8" fittings, and generally these sizes do not interchange with other manufacturers.

Pressure Ratings:

Designed for use with Liquids, consult Dixon for specific recommendations. Recommendations based on the use of mating Dixon fittings at ambient temperature (700 F) with standard Buna-N Seal installed. For use at elevated temperature or other unusual operating conditions, consult the factory.
"EZ BOSS-LOCK"
No more fumbling with clamps, wire, clips or pins ..
Just close the handles and the locking mechanism is engaged.
Unlike other safety couplings ...

• The EZ Boss-Lock is extremely EASY TO OPEN!!! The release lever is under your thumb when you want to open the fitting. ERGONOMIC.

• The EZ Boss-Lock is resistant to accidental
disconnection when being dragged. The release
lever opens in the direction opposite to the cam arm, so movements that tend to open the release lever also tend to close the cam arm!!!

• The EZ Boss-Lock alerts you if it is not properly engaged. If the rotating lever is not flush with the handle, it is not properly engaged.

• The EZ Boss-Lock has no sliding pins to jam. The EZ Boss Lock's rotating action helps keep the locking device free of debris.

• The EZ Boss-Lock has no sliding pins to pop open. The EZ Boss-Lock is designed to protect critical parts from impact and to withstand rugged use.

• The EZ Boss-Lock can be supplied with special shanks custom suited to your needs. The EZ Boss-Lock is available with Swaged and PF shank designs, for hard to couple chemical hoses.

• The EZ Boss-Lock cam arm assemblies are made of investment cast Stainless Steel with plated Carbon Steel pull rings.

• The EZ Boss-Lock is easier to insert into the hose tubes on Tank Trucks, and easier to use in restricted spaces. This is due to the smaller maximum 0.D. and a more snag free exterior.

• The EZ Boss-Lock Cam Arm assemblies can be retrofitted onto Undamaged Stainless Steel Boss-Lock. This allows you to protect your investment in Stainless Steel Boss-Lock couplings while you upgrade.

• The EZ Boss-Lock is Made in the USA.
All measurements in this brochure are for reference only and are subject to change. Where dimensions are critical, please consult the factory. For products not shown or special application questions, please consult the factory.
CAM & GROOVE LINE DRAWINGS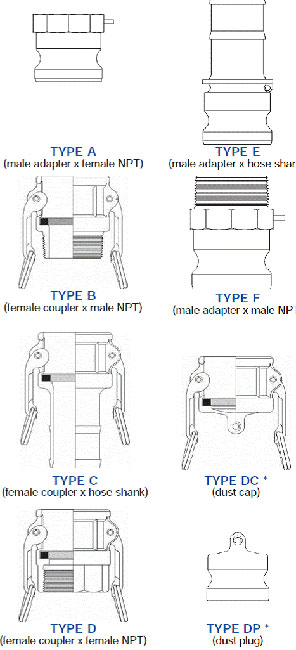 Dust Caps and Dust Plugs are NOT to be used in Pressure Applications for safety and environmental reasons.

WARNING: UNDER NO CIRCUMSTANCES
should Cam and Groove couplings be used for compressed air or steam service!