FALCON HTC"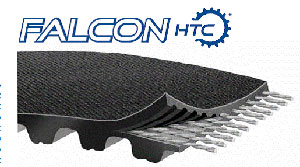 Part No: 8GTR-640-12
8 8mm Pitch Length
GTR Falcon HTC Belt
640 640mm Pitch
12 12mm Width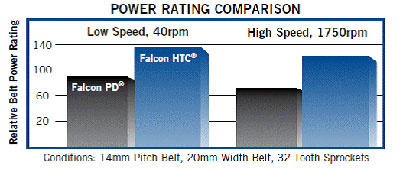 THE STAR OF OUR REINFORCED RUBBER POWER TRANSMISSION BELT PORTFOLIO
Falcon HTC is quickly setting the new standard in synchronous drive system belting. When compared to conventional polyurethane synchronous belts , the benefits of Falcon HTC become evident.

SPECIALTY COMPOUNDED MATERIALS GIVE THIS BELT SUPERIOR ADVANTAGES
A reinforced-rubber synchronous belt designed to work in a variety of demanding drives, Falcon HTC now offers up to 30 percent more horsepower Over its predecessor. The ability to operate continuously in temperatures up to 200 degrees 'F, along with being static conductive:, helps Falcon HTC perform in special applications, providing longer life and higher output to meet your needs.
QUIET OPERATION
Falcon HTC runs quieter, up co 6dB in operacion for a better environment while offering advanced flex-fatigue resistance to help extend belt life.

LOWER MAINTENCE COST REDUCE THE PAIN
Falcon HTC synchronous belts do not require lubrication often found in chain drive applications. High-modulus cord members minimize the need for retensioning normally required in standard v-belts, reducing your overal maintenance cost.