The complete belting offer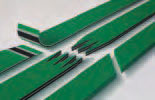 • Fabric conveyor belts are available with various coating materials like TPU, PUR, PVC or rubber, as well as with various surface structures including nonwoven. This is why we are able to offer the most suitable belt for your specific application requirements.

• HabasitLINK® plastic modular belts are available in different materials like PP, PE, POM/AC, PA as well as special materials and a large variety of different belt styles. Habasit is the only belt supplier to manufacture and offer the full package of fabric-based belts and plastic modular belts.

• Power transmission belts and machine tapes are available, tailor made to suit the specific needs e.g. as drive belts for live roller conveyors. This includes round belts, which can be used as live roller belts.

• Accessories like profiles, v-guides and cleats complete our offering. Innovation is a key word at Habasit The extensive variety of solutions enables our customers to choose the best product for their application.


Competence and experience

Habasit application engineers, technicians and joining specialists are at your disposal to provide professional consulting, superb costumer service and excellent support. Since its foundation in 1946, Habasit has proven this understanding of customer needs for more than 50 years.

With a comprehensive global network, Habasit is able to respond to any request that you may have with nothing less than an outstanding belting solution of highest quality, tailored to your specific needs.