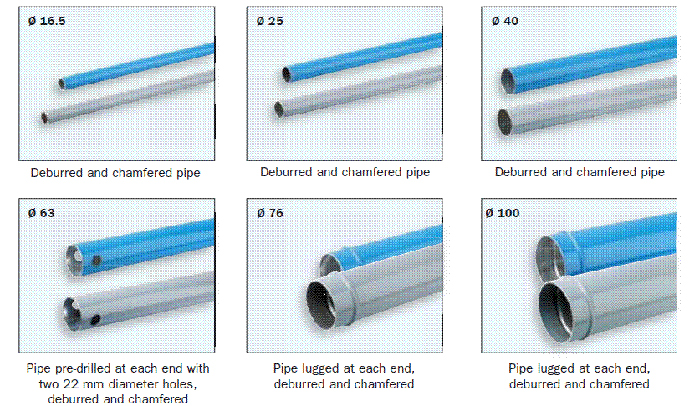 Transair aluminum pipe is supplied ready for use. No particular preparation (cutting, deburring, chamfering, etc.) is required. Thanks to the rigidity of Transair aluminum pipe, temperature-related expansion / contraction is reduced to a minimum. The Transair network retains its straightness, and hence its performance, over time (reduction of pressure drop caused by surface friction). Transair aluminum pipe is calibrated and fits perfectly with all Transair components. Each connection is automatically secured and the seal is optimized, which minimizes corrosion to the internal surface Transair aluminum pipe has a protective powder coating (QUALICOAT certified) and is thus protected from external corrosion. Its color allows the network to be immediately identified and gives a clean and aesthetic overall appearance.

Standard colors available:
• blue (RAL 5012/BS1710)
• grey (RAL 7001)
(please contact us for other colors)

Transair aluminum pipe is available in six diameters and two lengths.
Legris SA is the world's leading manufacturer of connectors for compressed air distribution systems. Legris SA designs, manufactures and sells innovative quick connect solutions (connectors, pipes and tubing) as well as accessories for
compressed air, vacuum and low, medium and high pressure fluid power systems. Legris SA supplies customers throughout the world and is part of the Legris Industries group of companies.
Transair is the division of Legris specialising in air pipework systems for new projects, for renovation, extension or modification of existing systems and for point of use connection. Legris Transair is a rapidly expanding part of the group, incorporating the group's dynamic innovative spirit. We develop solutions that are specifically designed to meet the requirements and constraints of all industrial applications.

Transair technology is well known for its high quality and performance and is used in a wide range of industries: aerospace, food, automotive, chemicals, electronics, packaging, vehicle maintenance, clock and watch-making, printing, metal working, pharmaceutics, plastics, textiles, etc.