Polyethylene Tubing

• Parflex polyethylene tubing meets FDA, NSF Standard 51 for all food contact applications and NSF-61 for
potable water applications

• Our E-Series tubing is made of 100% virgin resin material

• Polyethylene tubing meets ASTM D-1693 for stress crack resistance

• We also offer special PE tubing: FRPE (flame retardant & plenum rated) as well as HDPE (high density)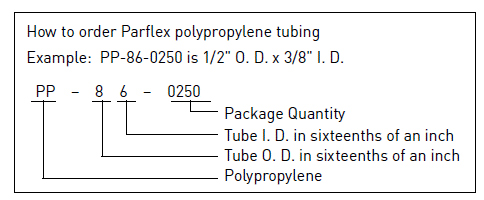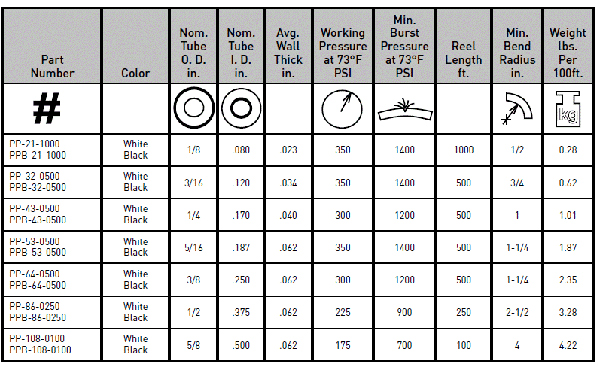 Polypropylene Tubing
Series PP: Laboratory Grade—FDA, NSF Listed
Series PPB: Ultraviolet Light Resistant
• Acid and chemically resistant.
• Flexible.
• Dimensionally stable.
• May be used at higher temperatures and working pressures
than polyethylene tubing.
• Resistance to hot water and hot corrosive acids is excellent.
Polypropylene tubing will last many times longer than nylon
tubing in hot water service.
• Has water absorption of less than .01%.
• Has good resistance to vegetable oils.
• Has excellent resistance to environmental stress cracking.
• Available in white, UV-resistant black and special NSF black.
• PPB series tubing has superior ultraviolet resistance.
• White and NSF black polypropylene meet FDA and NSF-51
requirements for food contact and potable water.
• PP NSF listed only upon special request.
• NSF black polypropylene tubing is available upon special
request. Add -NSF suffix to PPB part number.
• The recommended operating temperature range for service
at rated pressures with compatible fluids is 0°F (-18°C) to
+200°F (+93°C).