Notice
This information is provided for reference only! The product(s) represented in this literature were previously manufactured by Goodyear Engineered Products- Veyance Technologies until January of 2015 when this legal entity was acquired by Continental AG of Germany and became part of their ContiTech Industrial Products Division. Many of these products are still available today but are currently branded with the Continental ContiTech logo and name. Some product names have been changed, however most have remained the same under Continental.

Goodyear Rubber Products, Inc. is an independent authorized distributor of Continental ContiTech products.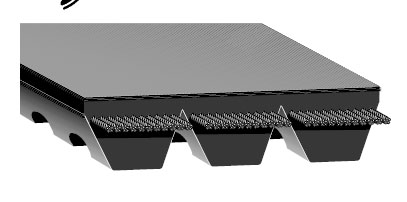 Part No: 3/BX112
3/ 3 Rib Joined Construction
B .66" Top Width – Classical Profile Rib
X Premium Cogged Construction
112 Approximate 112" Inside Length
Cut-Edge, Molded Cog Construction Shown


APPLICATIONS
For shock load applications. Ideal for pulsating loads,
high-capacity drives, and short center heavy-duty
drives.
KEY FEATURES & BENEFITS
• Classical profile ribs.
• Joined construction for problem drives.
• High-strength Vytacord™ tensile members.
• Available in cut-edge construction with
Wingprene™ insulation or envelope construction with Plioflex® cushion.
• Tough fabric backing.
• Oil, heat, ozone, and abrasion resistant.
• Matchmaker® to eliminate mismatch.
• Static conductive.