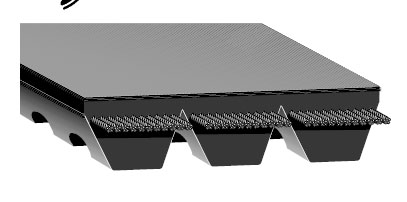 Part No: 3/BX112
3/ 3 Rib Joined Construction
B .66" Top Width – Classical Profile Rib
X Premium Cogged Construction
112 Approximate 112" Inside Length
Cut-Edge, Molded Cog Construction Shown


APPLICATIONS
For shock load applications. Ideal for pulsating loads,
high-capacity drives, and short center heavy-duty
drives.
KEY FEATURES & BENEFITS
• Classical profile ribs.
• Joined construction for problem drives.
• High-strength Vytacord™ tensile members.
• Available in cut-edge construction with
Wingprene™ insulation or envelope construction with Plioflex® cushion.
• Tough fabric backing.
• Oil, heat, ozone, and abrasion resistant.
• Matchmaker® to eliminate mismatch.
• Static conductive.